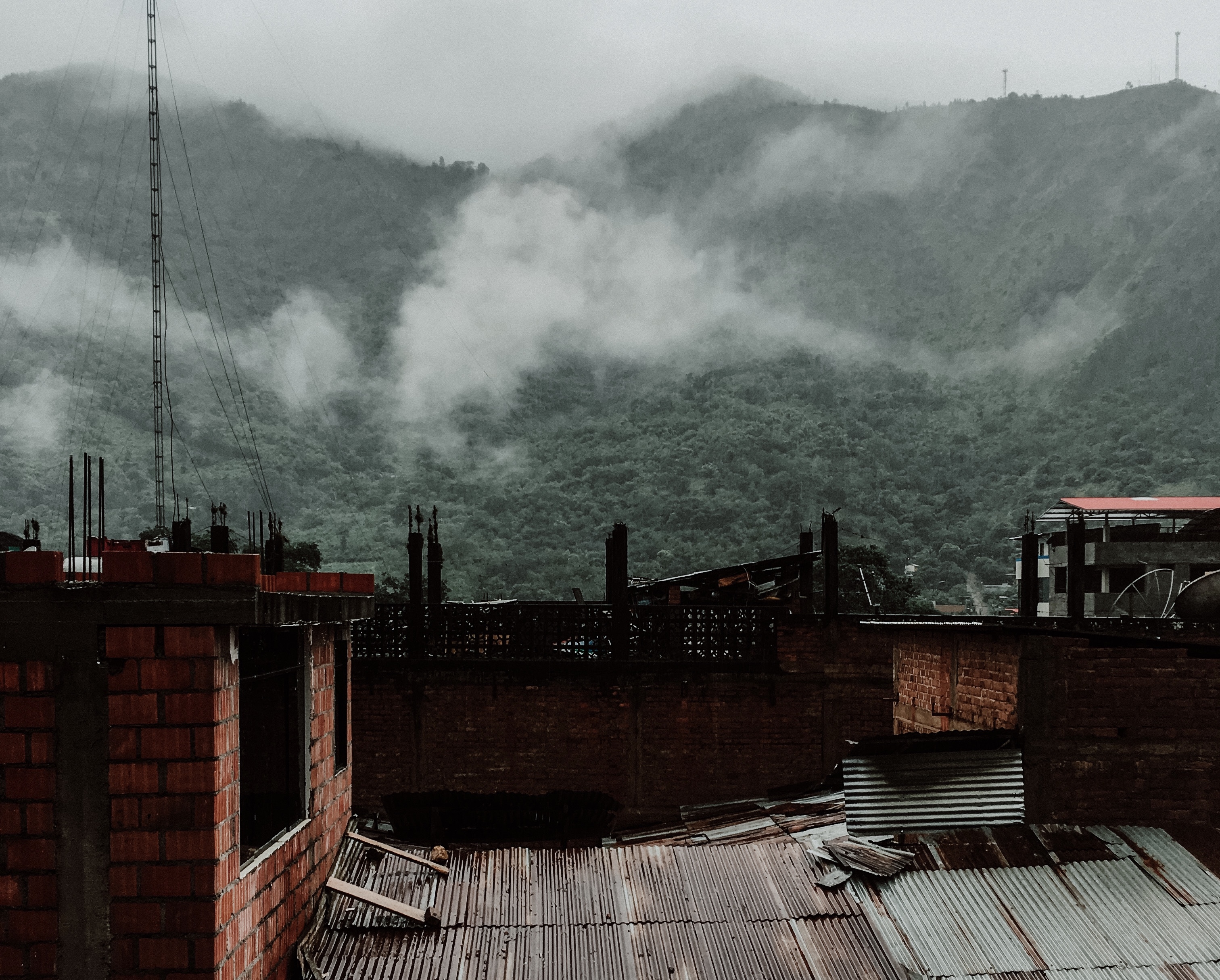 Join Me On A Coffee Adventure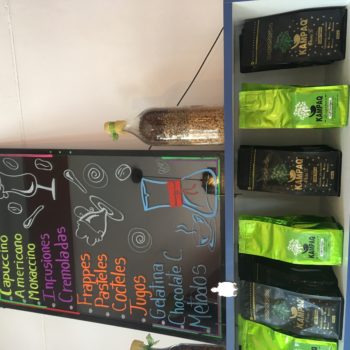 Local Grown, Local Roasted, Local Consumed
A seven-hour bus drive away from Cusco, beyond the famous Machu Picchu, lays the city Quillabamba. After hours in the bus up the small roads further into the cloudy mountain forest, you keep wondering where there should be a city. Suddenly, in the middle of nowhere, there is this vibrating, busy city with more than 20.000 inhabitants, unknown to tourist. Little tuck tucks swarming around all-day, bringing everyone from A to B.
Quillabamba marks the starting point from where I'm about to visit cacao plantages for the next few days. In the areas around, farmers bring their beans to fermentation- and drying stations. And where is cacao, coffee is not far. So let's explore the coffee culture in this remote place in the Peruvian mountains.
Coffee store in the front, cacao fermentation station in the backyard – that is the in-house sale belonging to a cooperative, an association of local farmers. Farmers from around bring their beans to be dried in fermented in this station, in front shop and café you can enjoy local coffee, also roasted on the place and buy chocolate made from the local beans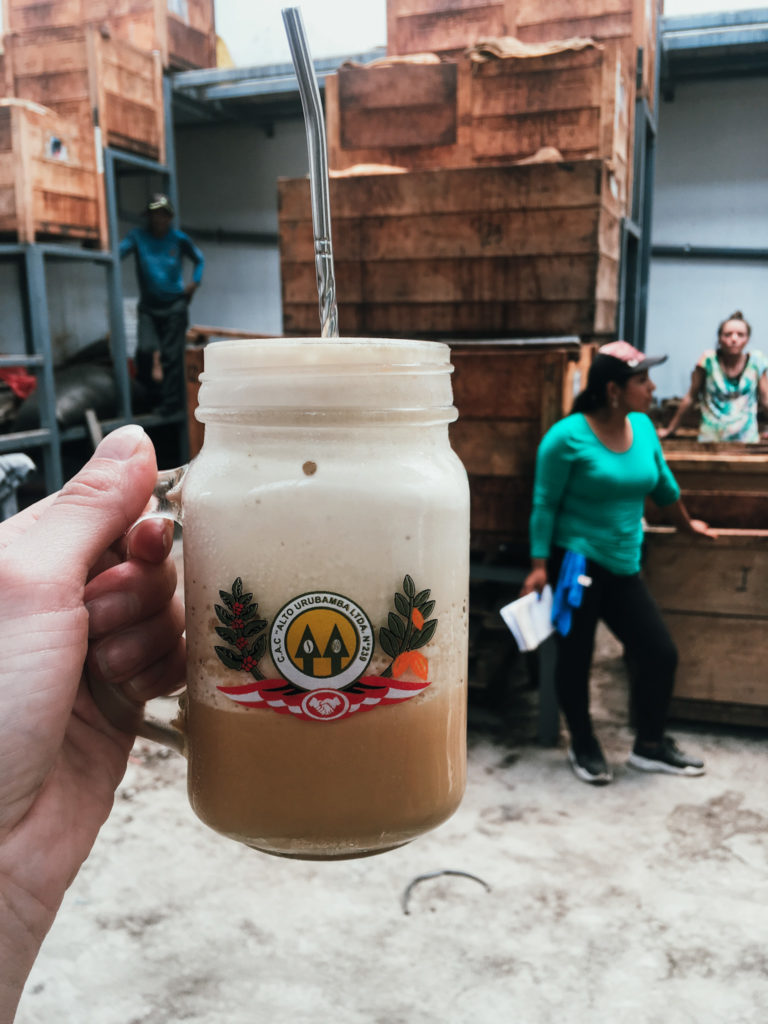 Cacao & Coffee Is A Good Match
There is nothing better than an iced coffee in hot tropical heat while learning more about fermentation of cacao beans. The cooperativa agraria cafetalera alto urubamba ltda. N ° 239 collects and modificates of coffee and cacao beans, collected from the harvests of its cooperative members in the area, who manage their crops with ecological and organic standards. While i'm learning more about the fermentation protocol of their cacao, i get to enjoy their beverage ice cold with vanilla ice. Imagine your starbucks frappuccino on a hot summer day, but with actual good coffee beans.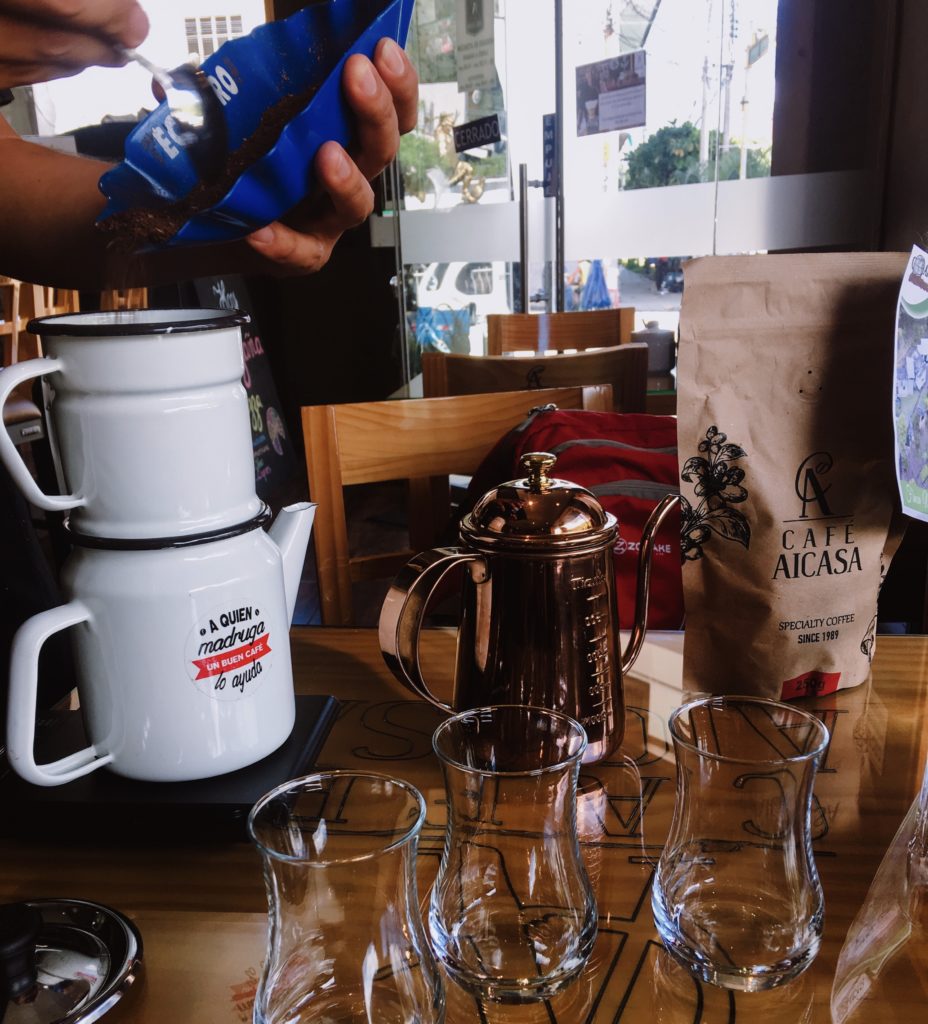 Traditional Peruvian Drip Coffee Method
I've never saw a brewing method like this before. Although you can get emaille coffee can with filter like this in antique french stores, it seem to be a Peruvian style. For three persons the barista used 29 gram of fresh grinded coffee and 90 degrees water, poured over slowly. It takes its time to pass, but the coffee is strong and if good quality beans are used, you can achieves better aroma than with other methods, I was assured.The grinding should be finer than you would use for a french press but coarser than for a filter. It was a excellent and unique tasting experience.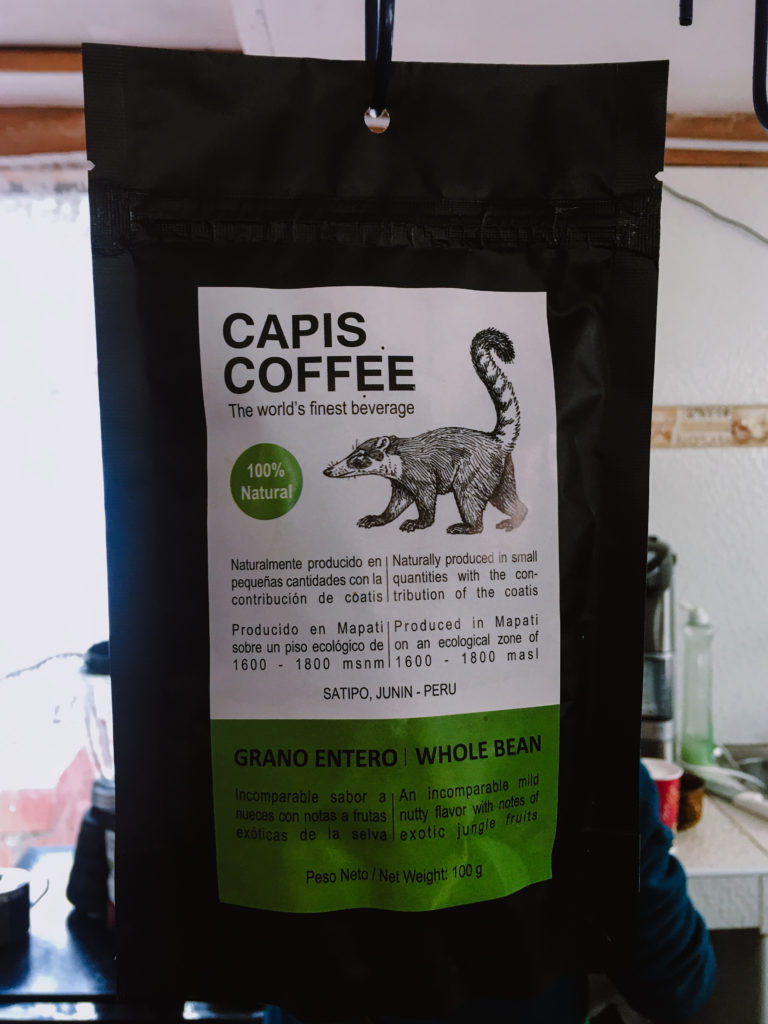 The Most Expensive Coffee In The World – Is It Worth It?
You have probably heard of Kopi luwak or Capis Coffee in connection with poop. The Capis Coffee is processed like the following: The Coati or Cat-Monkey (Civet) animals are in charge of "harvesting" or collecting the Best Coffee beans, Guayaba fruits, Lucuma fruits, Pears, Peaches and other exotic local fruits. This fruity mix will enter into a deep fermentation with a unique aroma, yes by being partially digested and then pooped out by the civet.
Now there comes some problems with this. The high demand leads to more wild civets are being confined to cages on coffee plantations as tourist attraction.
I visited in animal rescue reservat where they not only kept this civets but also tigers who were rescued from clubs in Lima, where they were drugged for the sole purpose of entertaining visitors and making selfies. The rescue center sell this coffee along with handmade alpaca wool products to sustain themselves.
So what is all the fuss about this premium coffee? I can assure you, you don't miss out on anything here. Is the coffee good, mild, little acidic? Yes? Is it worth to pay such a high price for it and endanger a species? No. You can totally get a good tasting quality coffee at your local roaster.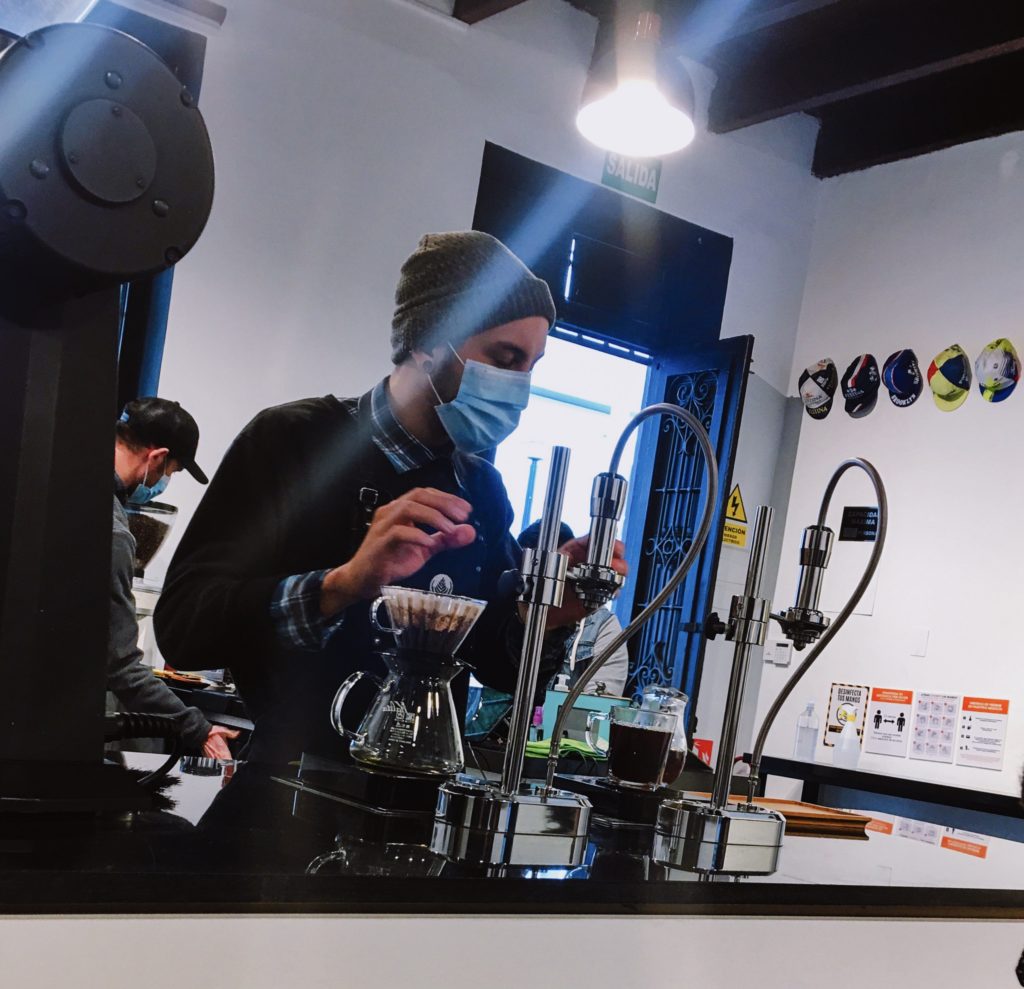 Speciality Coffee Stores Under Lockdown
I was spending months in Miraflores, Lima before the first speciality coffee shops opened again and drinking out again with new hygienic measures was something for all of us we've never experienced before. For me, my first visit was a specialty coffee store, of course. With mild climate and doors open … This is far from normal but I wonder, what it means for hygienic standards in the future when hospitality opens again.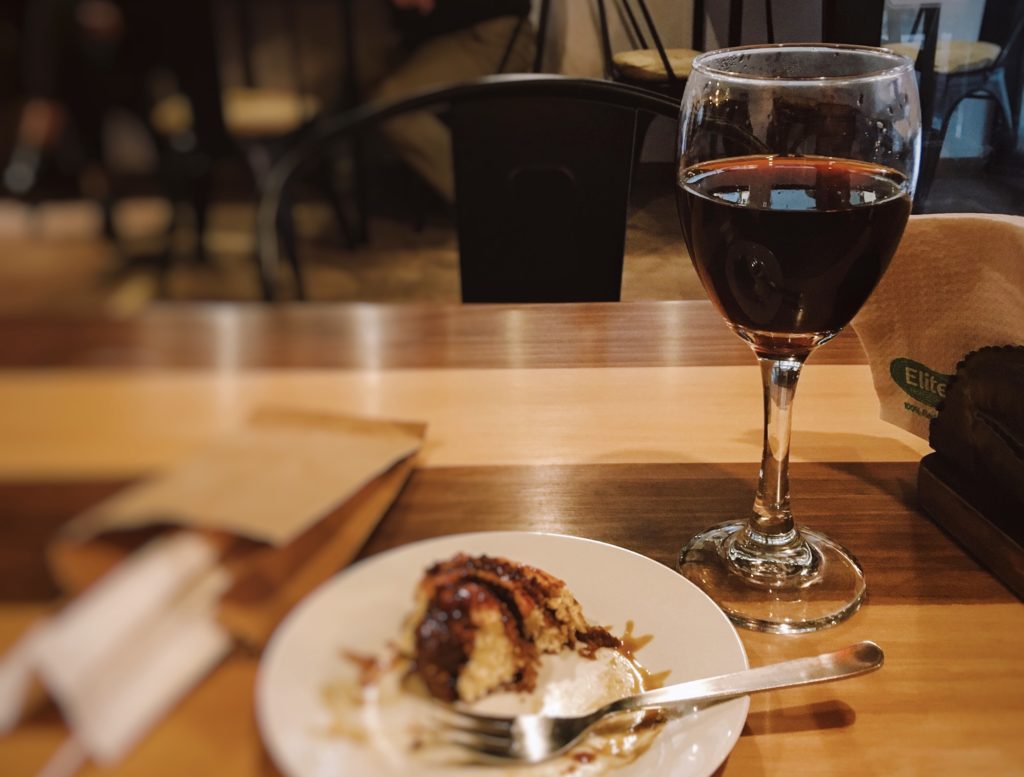 Peak Hipster Level Coffee
I knew I reached peak hipster level when I was served coffee in a wine glass. This was nothing fancy os special and the café also doesn't have any pretentiousness on it. It was just their way to show dedication to their coffee or maybe because I was a tourist. It was my last week in Lima before returning to Europe and somehow this weird thing gave me comfort. If you can serve coffee like this in the middle of a pandemic and your Land in chaos, eventually everything is gonna be alright again. 
Did you enjoy this article?
Hey, 👋 My content is meant to inspire and educate about ethically sourced cacao and coffee. My inspiration is fueled by beans and the vibe of coffee houses. You can support my work by buying me a coffee. I appreciate that.
Buy Me A Coffee